Each year, Anadarko Industries recognizes employees who have produced outstanding results towards the betterment of the company and/or in exceeding our customers' expectations.
The Golden Eagle Award is the highest corporate recognition presented to AI employees. It is AI's premier quality and performance award recognizing that the award recipient has demonstrated excellence in some of the following fields: Supporting beyond their normal work output; Attaining a particular program goal; Contributing to a major cost savings initiative or series of lesser cost savings activities; Being instrumental in developing solutions that increase quality, safety, reliability, efficiency or performance; Assisting in operational improvements that increase efficiency or performance; and/or Participating in business development activities supporting company growth.
Although candidates are evaluated every year, this award is not necessarily presented every year.  "This is a very special award that we present to employees who truly have contributed to the growth of our company or enhanced the performance of our customers.  It is much more than a typical Employee of the Year award," stated Kenn Hall, AI's President/CEO, as demonstrated by the fact that AI has only presented this award four times in its 15 year history.
Anadarko Industries is proud to present the 2017 Golden Eagle Award to
Tyler Champagne
Center for Safety and Fire Operations (CSFO)
Houston, TX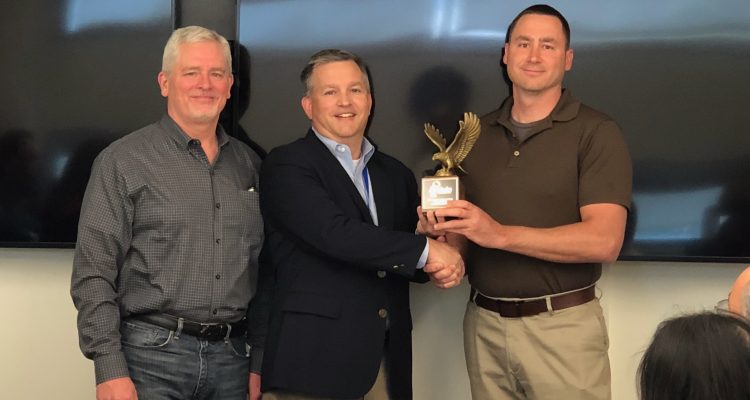 Obtaining his Responsible Managing Employee-General (RME-G) State of Texas License to assist with the Water Based Fire Protection Systems on the CSFO contract
Performing explosive safety audits for remote JSC field sites including the White Sands Test Facility, Yuma, and El Paso locations
Attending the NASA Agency Level Fire Protection meeting at the Wallops Flight Facility to discuss NASA fire protection standards and JSC best practices
Assisting in the JSC Building 9-S Video Image Fire Detection System Project
Supporting multiple proposal activities with the AI corporate staff
Congratulations Tyler!