So, what exactly is "Safe, Not Sorry," and how did it come to be?
Every day, JSC employees save lives and prevent countless injuries by going out of their way to help others and to see that our workplace is safe. Certainly, such selfless acts are worthy of recognition, and this was the premise on which "Safe, Not Sorry" was born.
The first ideas were vague and formless, that is, until AI's writer/editor Mary Peterson, mused that the word "if" had been labeled the saddest word in the English language. "If" I had done (or not done) this; "If" I had been more careful; "If" I had paid attention. It naturally followed that "if" meant you might be sorry for an action or inaction. Thus was coined the phrase, "Safe, Not Sorry."
Then, in collaboration with co-worker Rindy Carmichael, AI's person-in-charge-of-making-things-happen, a small, but impressive, lapel pin with the letters "SNS" was designed that would be awarded to any employee who went above and beyond for employees' personal and collective safety. Qualifying would be simple—when someone was noticed doing something of safety significance or going out of the way to correct a hazard, any employee could recognize that person on the spot or make a recommendation to management for more formal recognition.
The rest, as we like to say, is history. Literally hundreds of SNS pins have been awarded, both formally and informally. Rindy would likely say it seems more like thousands, because she solicits the stories behind every single award given, ranging from cleaned up hazardous spills to actual life-saving events. By now, most surely everyone knows what SNS really means, and it has, in its short life, become a mainstay of the JSC safety program.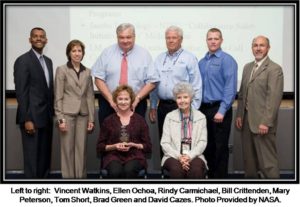 Posted on April 16, 2010