In addition to the exceptional service and support provided by this team day-to-day, they have now become integral in leading a recent Habitat for Humanity effort specifically targeting aerospace contractors.  Because they are part of a team consisting of various members of the EVA community, they were challenged with devising a unique team name and logo, and more importantly, were tasked with helping to raise the minimum support amount of $2,500.  Forging ahead as team "GO for H4H", a series of fundraising activities ensued.  Countless hours of their personal time were spent making sure that success was inevitable.  After several office bake sales, a charity poker tournament, a silent auction, and an unbelievable basket raffle, not only did this team meet their goal, they soared far beyond it and continue to accrue additional donations.  To date, they have raised $8,652 for Bay Area Houston Habitat for Humanity and expect to be over $9,000 by November!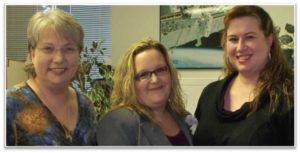 Pictured above: Anadarko's team of representatives on this contract includes Denise Nichols, a Communications Analyst who supports 24/7 on-call support of the Program's Action Desk; Telisia Crow, a Configuration Management Specialist who supports our NASA customer directly onsite at JSC; and their supervisor, Melissa Chaviers, the One EVA Program Office Communications Manager

And that's not all!  Each team participating in the Aerospace Build was given an opportunity to compete for the highly coveted opportunity to raise the walls on the home in Texas City that will be built from now through early spring of next year.  On October 13th, nine enthusiastic teams came together in the spirit of friendly competition to face opponents in a series of sporting events at Countryside Park in League City.  Competitors included Boeing, Jacobs, Bastion Technologies, Wyle, ERC, USA, the JSC Federal Credit Union and NASA.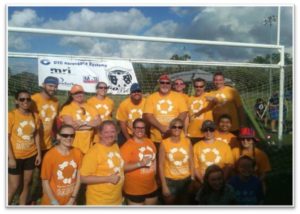 The morning began with 3 rounds of beach volleyball and immediately transitioned into a kickball tournament where team GO for H4H dominated the field with 4 back-to-back wins!  After a jousting match and an egg toss, the afternoon delivered 2 heats of a relay that incorporated a giant soaped up slip 'n' slide, a one-mile obstacle course, and a kayak race.  The grand finale was a series of very intense Tug-of-War matches, where we went undefeated 5 times in a row!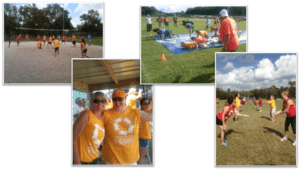 That's right!  Team GO for H4H brought home the 1st place trophy and has been granted the esteemed privilege of raising those walls on November 3rd!  All spots for that build date have been reserved, but if you are interested in participating in one of our future build dates (in December and February), please feel free to contact Melissa Chaviers at [email protected] or 832-217-4970.  To make an online donation or to track the team's progress, please visit http://www.stayclassy.org/fundraise?fcid=209997.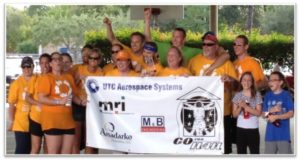 Posted on Tuesday, November 20, 2012