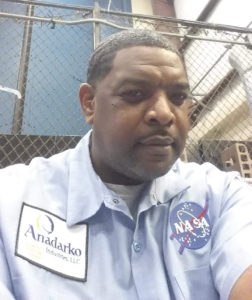 Andreas "Dre" Hogan is a Houston, TX native and a graduate of Evan E. Worthing High School in Houston.  Dre also attended Texas Southern University. 
Dre has been with Anadarko Industries (AI) for 11 years now and is currently the consignment inventory ("C-Store") In-Checker on the NASA Johnson Space Center (JSC) Facility Support Services (FSS) Contract supporting PAE.  With 11 years under his belt, he is a proud owner of the AI 5-year clock and 10-year Yeti!  Dre says he's "an early riser and enjoys opening the store to assist customers to prepare for their day. Being the first contact for many workers, my goal is to greet them with a smile, be professional and provide them with everything they need to start their day."
Prior to taking over the role of the C-Store In-Checker, Dre spent 7 years as the Warehouse Lead on the same contract and has been recognized multiple times over the years for his dedicated service and hard work.  He's looking forward to at least another 10 years with Anadarko's team providing quality customer service.
Dre has also served as an active member of the NASA JSC Safety Committee and believes in safety first and is very passionate about maintaining a safe environment.
When he's not at work, he enjoys spending time with his beautiful wife, three sons, and his granddaughter.  Dre enjoys traveling with the family, sports, walking, and cooking, but really enjoys participating in the annual Kidney Foundation Kidney Walk to help raise money for their research efforts into kidney disease.  If you'd be interested in joining him you can find a local walk at their website.
Below are some additional pictures of Dre and his family: