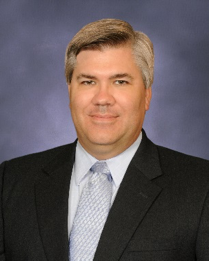 Mark Ovesny is currently Anadarko Industries Operations Manager, a role he's had for the past year.  Prior to that Mark was with Anadarko for four years as the Program Manager for the Boeing International Space Station subcontract from 2012 to 2016.  Prior to his time with Anadarko, Mark was the Engineering Lead in the Space Vehicle Mockup Facility at the Johnson Space Center as well as the Program Engineer for the Neutral Buoyancy Laboratory and Space Vehicle Mockups Facility Operations Contract (NSOC).  Overall, he spent fifteen years at the SVMF, after being hired in under Kenn Hall's direction.  During the time that he was transitioning from a Project Engineer to the Engineering Lead role in the SVMF he was tasked with developing a plan to update the mockups to provide a better training environment for the astronauts, and was awarded the Silver Snoopy for developing a plan that not only gave the astronauts and trainers what they needed, but figured out a way to squeeze it into a budget that NASA could afford.
Originally from Dickinson, TX, Mark attended Mercer University in Macon, GA, after graduation from Dickinson High School, completing a dual specialization in Mechanical and Electrical Engineering.  His first job was with Temple Inland Forest Products company supporting plants from Georgia to Oklahoma, which meant he spent almost the entire year on the road living out of hotels and off expense reports, but after being told he would be the new plant engineer in Monroeville, AL it was time to head back home.
Now his wanderlust gets satisfied by traveling with his wife and daughter.  Those trips include a regular visit to Disney World in Florida to see the in-laws who live on the Space Coast, as well as a recently introduced tradition of taking a cruise over the Christmas break to the Caribbean.  So far ten destinations in that region have been tallied up, with another one to be added this year.
He and his wife, Trish, met at Mercer in a freshman year class, but didn't get married for another ten years after that in 2000, and welcomed their daughter, Anastasia, in 2006.  Trish is currently an Assistant Professor of History at College of the Mainland in Texas City.  Anastasia is in seventh grade and a first-degree black-belt in karate and has just started the testing cycle for her second-degree belt that is scheduled to be wrapped up next summer.
There's not a lot of free time in Mark's schedule right now as he's working on an MBA and a Master of Science in Hospitality Management at the University of Houston, but when there is he likes to read the 163X ("Ring of Fire") series of books by Eric Flint and other authors or play old computer strategy games.  He also took up the guitar a couple of years ago when Anastasia started taking piano lessons but won't be giving performances anytime soon.
The best advice he ever got was actually from Kenn Hall.  Believe it or not, managing folks can at times be a little trying, and especially for someone getting into that business very early in their career it can be more than a little frustrating.  But as Kenn told him "you can fire everyone, but then you have to do their job."  Being smart enough to recognize everything that everyone does every day to make the Anadarko team succeed makes it very easy to recognize the value of each individual that makes up the successful team and for me to focus on ways to make sure everyone gets what they need to best perform their jobs.