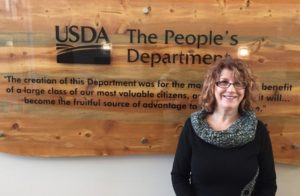 Suzanne "Suzie" McIlroy was born and lived most of her life in Scotland in a town just north of Edinburgh.  She moved to Fort Collins Colorado in January 1998 for a one-year project – 2018 and she is still there!
Suzie worked for Hewlett-Packard (HP) for 17 years, most of that time in their Scotland manufacturing facility which was a major producer of Test and Measurement equipment and servers.  She started in Procurement as data support, moving up to Buyer, then to Commercial Specialist working with suppliers all over the world.  She then moved into Project Management with HP which gave her the opportunity to study with Deloitte Project Management Mentors.  Working on large, international projects as a Business Process Team Lead gave her the chance to relocate to Fort Collins, CO.
Suzie started with the United States Department of Agriculture (USDA) in January 2002 at the Fort Collins site and joined Anadarko Industries (AI) in October 2005 when they took over the contract for Project Management Support for Client Technology Services (CTS).
Suzie currently works for USDA CTS Technical Support Division as a Project Manager/Data Analyst. She also operates as the National Asset Lead for all end user computer equipment for the 20+ customer agencies supported by CTS.  Asset management is a very important part of their customer billing process and accuracy of the data is essential to CTS funding and customer chargeback.  Suzie leads a team of 40 Asset Leads from all across the United States and she says, "working with these amazing people provides a lot of job fulfillment and satisfaction."
When asked what has been her greatest accomplishment or experience while at AI, she stated, "In 2004 CTS was established as a new agency under USDA.  Watching the agency develop, basically from scratch, into the excellent organization it is today is very rewarding and challenging.  Working on creation and development of processes, operating procedures, data integrity and audit as part of this team has been a great experience. "
Suzie feels very fortunate to have her two adult daughters and her two wonderful granddaughters live locally so we can see each other often and do fun things together. 
Most of Suzie's extended family lives in Scotland so traveling is something she loves to do.  Now that they have grown children, Suzie, her brother and her sister like to travel to meet in new places such as Paris, Prague, Rome and Venice.  Of course, she still tries to get home to Scotland as often as possible to see her Mum and extended family.
Suzie has two dogs and loves to hike.  She says, "Colorado is a beautiful place to live and being outdoors and walking with the dogs and grandchildren is great for relaxing."
Suzie is excited about recently announced changes that CTS is taking on IT support for all USDA agencies in the next two years, and looking forward to the challenging and fun time ahead.
Below are some more photos of Suzie: