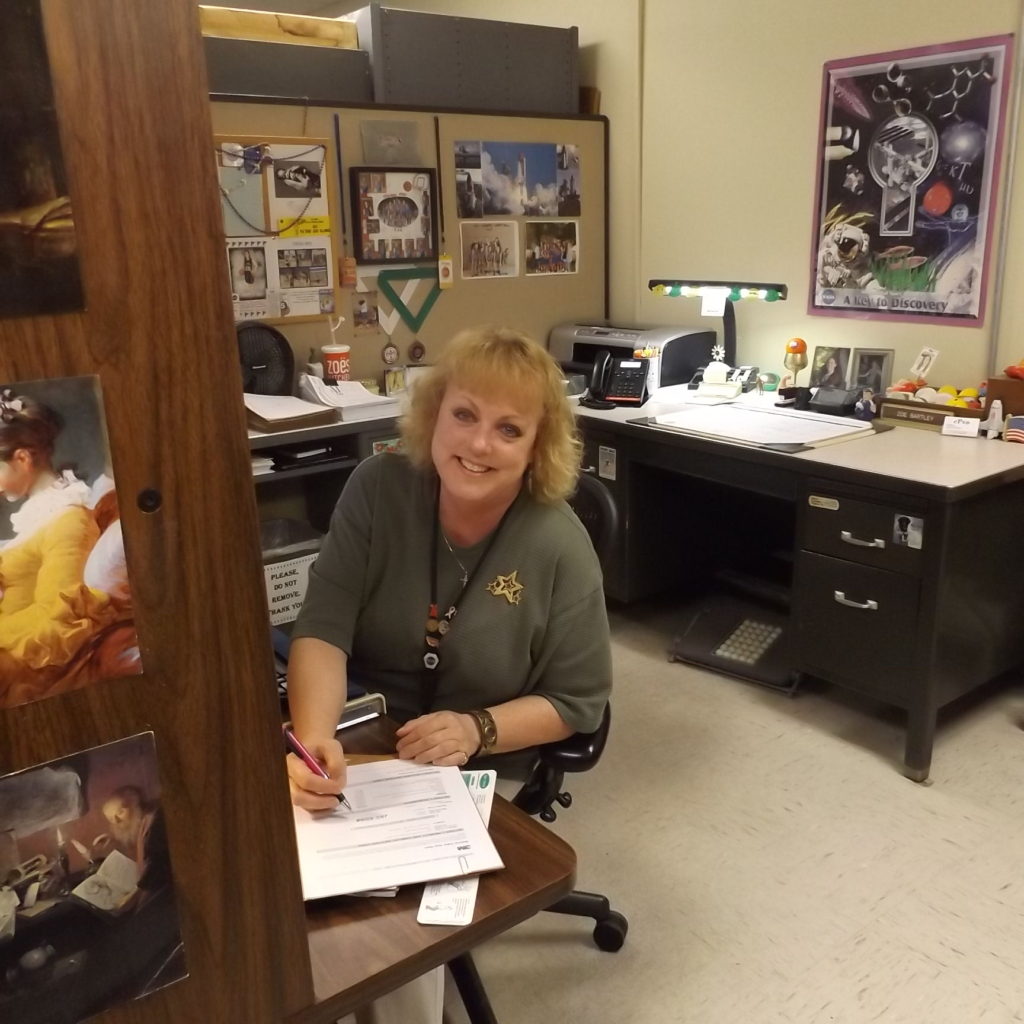 This month we are glad to put the spotlight on an employee of our newest contract at the NASA Johnson Space Center (JSC) in Houston, TX.  Zoe Bartley works on the NASA JSC Human Health and Performance Contract (HHPC) as the Center's Safety Data Sheet (SDS) Coordinator for Hazardous Materials Inventory and has been with Anadarko Industries since the start of the contract for 2-1/2 years.  A native of La Porte, TX, she has resided in the Clear Lake area since 1990 after stints in Pasadena, TX and Pearland, TX.
After starting out in banking in 1981 as a teller, she attended many classes with AIB – The American Institute of Banking and worked up to a computer operator in a banking transaction clearing house. In 1993, she gave birth to her wonderful daughter and decided to change gears and went to work for an environmental chemical laboratory as a laboratory data specialist for two years.  That allowed her to brush up on chemistry and, in April of 1999, she came to work for Kelsey-Seybold on the JSC Occupational Health Contract as administrative support for a little over a year.  She then received an opportunity to move into the Hazard Communications Department as the NASA JSC SDS Coordinator, as well as maintaining responsibilities she had taken on involving the NASA JSC Hazardous Materials Inventory.  At the end of April 2018, she will have worked at NASA on the Occupational Health Contracts for 19 years!  We look forward to another 7-1/2 years on our current contract!
As part of the startup for the HHPC, Zoe was instrumental in the SDS Scanning Project, that saw digitalization of 307,389 paper SDS multi-page documents to PDF digital format for archive purposes.  Each document constitutes a potential historical employee medical exposure record.  This has led to streamlining the SDS process by using all digital documents, with no more paper copies.
Zoe is a twin, one of four siblings, and has four nieces.  Her father, grandfather, and great grandfather were all pharmacists.   
She enjoys visiting her daughter who lives near Denver, Colorado, listening to live music, especially jazz, R&B, and classic rock, and socializing with her friends. 
When we asked her what was "the next big thing?"  Zoe replied, "Not sure.  I live for today."