The CSF Safety and Health (S&H) Excellence Nova Award recognizes those contractor organizations that achieve significant levels in safety and health performance, actively participate in the CSF and Contractor Affairs Safety Committee, and have made specific contributions to safety innovation or service to the community. The Anadarko Industries CISS Team did just that by demonstrating their contribution to effective safety and health management systems for the ultimate purpose of achieving JSC mission success.
Safety isn't just a goal with the CISS Team. It's a profession and one in which they are justifiably proud. One has to only look at the reduction in mishaps and hazards, the integration of OSHA VPP principles, the implementation of effective safety programs, and their overall work to foster a sound safety culture throughout the JSC community to know this. In safety, CISS is the "A-Team."
Winners of the CSF S&H Excellence Award were announced in JSC Today and recognized in a special ceremony co-hosted by the CSF Chair and the JSC Director of Safety and Mission Assurance and the Center Director's designated representative. Each award recipient was presented with a plaque and an award letter.
Good job, well done. Thanks to the CISS Team for making a safer, more healthful work environment for everyone at JSC.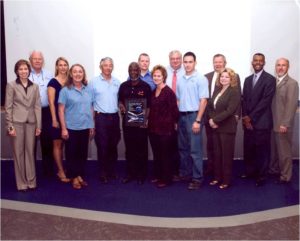 Posted on Tuesday, May 11, 2010