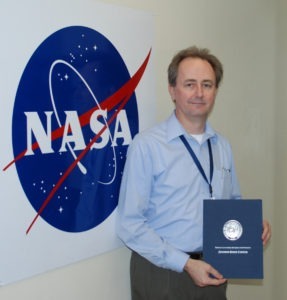 Knell was nominated by Safety and Fire Services (SFS) Contract Managers, Larry Barnwell and Bill Crittenden, for noting a safety concern in the Neutral Buoyancy Laboratory (NBL) and proposing some solutions to fixing the situation. Below is the write-up they submitted to NASA for this award: "Art Knell, a senior Test Safety Officer (TSO), noted that the NBL's suited operations were approaching the maximum safe Nitrox dive time of 400-minutes. A poll of his co-workers found operating at or near the maximum time had, over time, increased to the point where it had become routine. Concerned with the medical risk (oxygen toxicity) to the crewmembers, as well as potential mission impact, Knell took the initiative and objectively documented his concerns and proposed possible solutions to NBL management and the NBL medical office. Knell's knowledge of operations, his technical ability, and responsible approach led to acceptance by the NBL community and development of a test rule to control this potentially hazardous situation."
As a subcontractor to MEI Technologies on the Safety and Fire Services Contract, AI's team of test safety engineers provides safety engineering support to tests involving Johnson Space Center (JSC) personnel or hardware for space flight or institutional research and development conducted at the JSC facilities, including Ellington Field and the NBL, and off-site locations including international partner locations.  Test safety support includes evaluating the risk and hazards of test beds and spacecraft systems (such as life support systems, space suits, medical research equipment, thermal control systems, explosives, software, and other state-of-the art space systems) as they are operated in ground test facilities, supporting reviews, and monitoring test operations. These systems are tested in various environments such as vacuum, extreme temperature, underwater, vibrations, and zero-gravity.
Knell approaches his job with a solutions based orientation. He takes the risk management of NASA's crew members, test teams, and flight hardware serious and strives to provide answers to challenging problems. He works with test teams across the JSC to reduce the risk of space flight and space flight preparation by helping to provide workable solutions and answers in process safety and risk management."
Anadarko Industries President, Tom Short had this to say about the award, "I am very pleased that NASA has recognized Art Knell for his contribution to safe operations at the JSC NBL. Art is one of our best Test Safety Engineers and his attention to detail in maintaining the integrity of NASA Safety Procedures is a perfect example of a job well done".
When an SFA Honoree Event is held at Kennedy Space Center (KSC), the honorees from other NASA Centers have the opportunity to view a Shuttle launch, attend a reception in their honor, and meet with top NASA and industry officials including members of the Astronaut Corps.
AI is a Native American, Tribal-owned, Small Business Administration (SBA) 8(a) certified, small disadvantaged business. The Wichita and Affiliated Tribes of Anadarko, Oklahoma have established AI as the cornerstone of an economic development plan. This plan has provided college educations for tribal members, medical care for the elderly and helped to rebuild the economic foundations of the tribal communities.  For more information on Anadarko Industries, please go to www.anadarko-industries.com
Posted on Sunday, May 4, 2008