Anadarko Industries is proud to present the 2017 Golden Eagle Award to
Tyler Champagne
Center for Safety and Fire Operations (CSFO)
Houston, TX
Each year, Anadarko Industries recognizes employees who have produced outstanding results towards the betterment of the company and/or in exceeding our customers' expectations.
The Golden Eagle Award is the highest corporate recognition presented to AI employees. It is AI's premier quality and performance award recognizing that the award recipient has demonstrated excellence in some of the following fields: Supporting beyond their normal work output; Attaining a particular program goal; Contributing to a major cost savings initiative or series of lesser cost savings activities; Being instrumental in developing solutions that increase quality, safety, reliability, efficiency or performance; Assisting in operational improvements that increase efficiency or performance; and/or Participating in business development activities supporting company growth.
Although candidates are evaluated every year, this award is not necessarily presented every year.  "This is a very special award that we present to employees who truly have contributed to the growth of our company or enhanced the performance of our customers.  It is much more than a typical Employee of the Year award," stated Kenn Hall, AI's President/CEO, as demonstrated by the fact that AI has only presented this award four times in its 15 year history.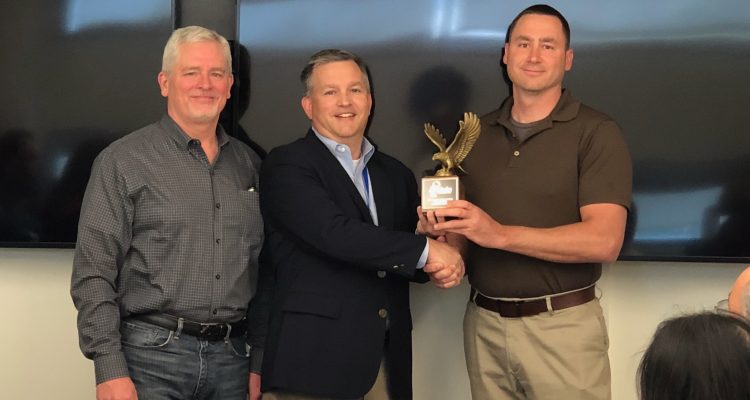 Obtaining his Responsible Managing Employee-General (RME-G) State of Texas License to assist with the Water Based Fire Protection Systems on the CSFO contract
Performing explosive safety audits for remote JSC field sites including the White Sands Test Facility, Yuma, and El Paso locations
Attending the NASA Agency Level Fire Protection meeting at the Wallops Flight Facility to discuss NASA fire protection standards and JSC best practices
Assisting in the JSC Building 9-S Video Image Fire Detection System Project
Supporting multiple proposal activities with the AI corporate staff
Congratulations Tyler!
Tyler is a Fire Protection Engineer on the NASA Johnson Space Center (JSC) Center Safety and Fire Operations (CSFO) contract.  Of winning the Anadarko Industries Golden Eagle award, he said that it is especially meaningful to him as he sees himself having developed much of his professional experience with Anadarko, and acknowledged that the award was presented to him based on the input and support of his peers, that he views as his mentors and friends who have helped him to achieve this level of success.
He was born in Galveston, TX, and has also lived in Tennessee and California, as well as Austin and College Station, before moving back to the Houston area.
Tyler originally started with the CISS contract (predecessor to CSFO) in 2005 and has been with Anadarko Industries (AI) since July of 2009.    He says that he has "one of the best jobs in the world [having] the opportunity to provide fire protection engineering consulting services to the Center's various Programs ensuring that each is able to carry out their mission while protecting personnel and preventing business interruption."  He particularly enjoys walking into the different labs, mockups, etc., that require fire protection around site, and getting to understand each customer's specific needs and challenges.  As he notes, "there are a lot of unique scenarios at the Space Center and many fire and safety codes are not written to address the peculiarities associated with our work here."  That of course provides him the opportunity to use his experience and expertise in "understanding … the intention of the fire codes to identify and apply out of the box solutions that accomplish those safety goals and facilitate a successful mission." This reflects his attitude that safety professionals need to do more than just identify safety issues, they also need to guide customers through the entire mitigation process based on a thorough understanding of the operational needs of the customer.  He honed those skills working with a company in the Austin area developing fire suppression systems, as well as another company that specialized in process plants in the Oil & Gas industry, in addition to his work at the space center.
Tyler has earned his Texas State Engineering License and is also a Licensed Fire Fighter.  Tyler has been married for 20 years to his beautiful wife, Christine, and is very proud of their three children, Luke, Jacob, and daugther, who range from 12 years old to 14 months old.  He enjoys vacationing in "sparsely populated outdoor" destinations, and would like to visit Alaska someday, but he also enjoys hanging out in his backyard with the family, as well as doing a little gardening that includes vegetables, fruit trees, and tropical plants.  His biggest highlights in life so far are his wife and children, his service in the Marine Corps, and his firefighting experience.