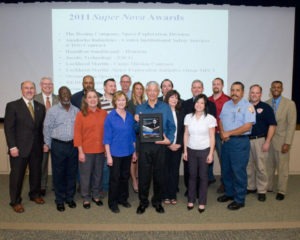 Tom Short, AI President said. "We are very proud of all of our employees and it is a great honor to be recognized by JSC for our employee's hard work and dedication to the safety of the center."
Mr. David Cazes. CSF Chair, and Mr. William S. McArthur, Director, JSC Safety and Mission Assurance along with JSC Center Director, Mike Coates, recently presented the award to AI's CISS contract employees with the 2011 Contractor Safety Forum Excellence Award – SUPER NOVA, at the March 20, 2012 Contractor Safety Forum (CSF) meeting.
Each candidate submitted their respective application with OSHA incidence rate safety data participation level in the CSF, CASC and JSC Safety Action Team (JSAT) and a description of their safety best practices, innovations and service to the JSC community. The information submitted was evaluated and scored by an Awards Committee made up of contractor representatives to determine the candidates that meet the required criteria and the award level of Safety Excellence. The awards are presented in three levels: Stellar, Nova and Super Nova.
Posted on Wednesday, April 4, 2012