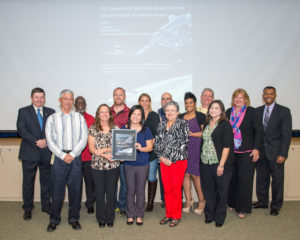 Tom Short, AI President, stated, "Great job, well done. Thank you to the CISS team for maintaining a safe and healthy, work environment for everyone at JSC."
The CSF award program was created to promote and recognize excellence in contractor operations through the implementation of effective safety programs, the reduction in mishaps and hazards, the integration of OSHA Voluntary Protection Program (VPP) principles, and by fostering a sound safety culture throughout the JSC Community. Each award application is evaluated and scored by a CSF Awards Committee made up of contractor representatives to determine the candidates that meet the required criteria and the award level of safety excellence.
AI is a Native American Tribal Owned Small Disadvantaged Business which is owned by the Wichita and Affiliated Tribes of Anadarko, Oklahoma. AI was Third Largest Houston-Area Aerospace Company for 2012 providing IT support services and facilities management support as well as IT services in eight cities throughout the country for the USDA, Army and Air Force. For more information on Anadarko Industries, please go to www.anadarko-industries.com.
Posted on Monday, April 22, 2013