Anadarko contractors in Fort Collins, Colorado support the Acquisition Management Branch of the USDA Forest Service for computer applications. In January 2008, a team of eight Anadarko employees were tasked with the challenge of providing the Forest Service with a Virtual Incident Procurement system (VIPR) to be used for soliciting, awarding, and managing preseason agreements nationwide for the 2009 fire season.
The agreements are established in advance of anticipated forest fire emergencies.  Automating national acquisitions is significant as last year the Forest Service spent 43% of its budget—$2.19 Billion—on Wildland Fire Management.
With only one year to rapidly develop and deploy the first release of the VIPR system, the VIPR development team used an Agile development methodology for their project.
The methodology involved a four-week sprint of work and then a business review to demonstrate the functionality developed within those four weeks. This approach allowed the VIPR development team to check in each month with the business and confirm that the business requirements had been translated into the appropriate software functionality. Any issues found could then be immediately corrected in the following sprint.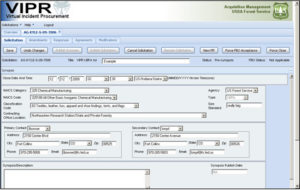 The VIPR team met their deadline and released VIPR 1.0 in January 2009! The VIPR project included several significant milestones. First, the business process was a paper-based process.
Translating this process into the rules for an automated system took considerable time and creativity. Second, the application is written completely in Java, using an industry-leading user interface package. Finally, the project has required the tight integration between the development team and the business partner to ramp up and deliver the application in just one year.
The software will be used by Forest Service Contracting Officers Nationwide and has a forms component that 5,000 third-party vendors will use to submit their responses to the solicitations.
The VIPR development team was recently recognized by the Forest Service and Anadarko for their significant accomplishment.
Other Acquisition Management contractors support the Forest Service Acquisition web sites which provide service-wide procurement information including areas of national Purchasing, Grants, Policies, and Regulations.  The talented team of web developers and database specialists recently received accolades for overhauling the websites, providing purchasing summary data, and managing Aviation Contract data.
Posted on Tuesday, March 10, 2009